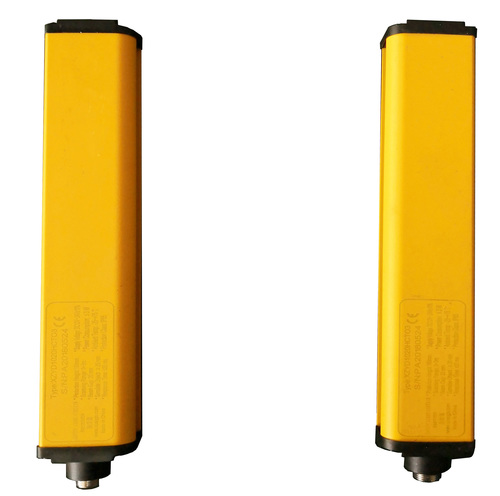 SZD Series Safety Light Curtain
Price And Quantity
Product Specifications
Aluminum alloy housing

no
Product Description
People can be protected from start to finish by installing this SZD series of safety light curtains. Such curtain can be availed at market leading price, and can provide one-sided access and hazardous point protection. This is a practical solution that is highly efficient and ensures complete safety. These safety light curtains can be installed in industries for guaranteeing the safety of people, systems and machines.
Section size: 35*50mm
Protection grade: IP65
Power: DC12V-36V +-10%
Response time: less than 10ms
Output: NPN/PNP/ Relay
Sync type: Optical synchronization / Line synchronization
Beam number: 4-500
Accuracy: 10mm/15mm/20mm/40mm/60mm
Protection height: 60-2000mm
Protection distance: 0.1-1m,1-3m,1-5m,1-10m
Anti-interference ability: 10000Lux
Shape material: Aluminium alloy
Circuit protection: Reverse protection / output short circuit protection
Consumed power: 3-8W
working temperature: -15-65 Centigrade
ambient temperature: 20 Centigrade,RH less than 85%
Product certification: CE ROHS

Model Selection Description

Product selection needs to be selected from the following parameters, so as to form a complete product type and facilitate quotation.

protection height: (how many millimeters?)
minimum protection accuracy: choose one from 10mm, 15mm, 20mm, 40mm, 60mm.
signal output: NPN, PNP, relay, MODBUS, 4-20mA, 0-10V, NPN two outputs, PNP two outputs.
Signal output mode: NC (normal close contact), NO (normal open contact). (These two kinds of signal output mode are limited to NPN and PNP output mode.)
The installation distance between the light transmitting terminal and the receiving end: (how many meters? )

Contact Us
5th Floor, 3H Maker Center, No. 552, Tangxia Avenue, Tangxia Town Dongguan Guangdong China 86-769-82062009
Phone :+8613826563968